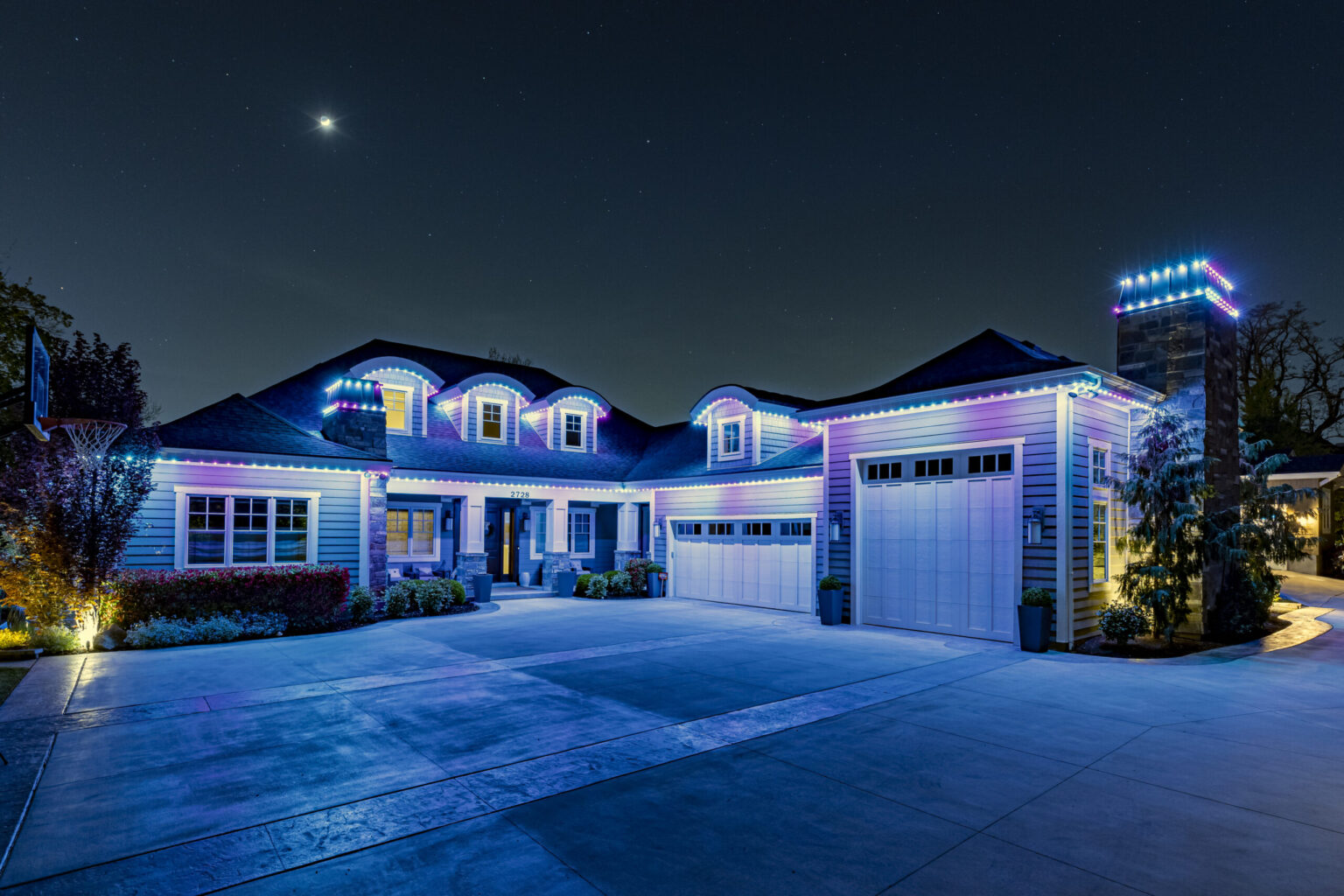 ottawa permanent led lighting experts
are you looking for permanent led lighting around ottawa?
Our Ottawa Permanent LED Lighting team is friendly, fast and reliable. We proudly install permanent holiday and year round programmable lighting. Our lighting systems provide bright, beautiful and customizable lighting for homes and businesses in Ottawa.
Our LED lighting system provides beautiful lighting at night and is hardly noticeable during the day. The Trimlight app gives our clients millions of colour changing and pattern options to celebrate any holiday or event. Clients have the ability to fully customize the colour and pattern of the lights from anywhere in the world on their phone or tablet.
Let our team of Ottawa light installers help you stay off ladders for good and install a permanent led lighting system on your home.
Click one of the buttons below to call or request a permanent led lighting quote online.
why choose peak property for permanent led lighting installation?
We proudly serve the Ottawa area and provide a professional experience throughout the entire permanent led lighting installation. Our team is fully trained to install our Trimlight product and continually receive training on the product. We are happy to answer any questions you might have about the product and our lighting installation process. Once the installation is complete we continue to provide customer support and product support. If you would like some help changing the colour of your holiday lighting or would like some help changing the lights to the Ottawa Senators colours, just let us know!
Not all residential homes look alike and that is why we complete our permanent led lighting quotes in person. We will visit your home in Ottawa and show you the product and answer any questions you might have. Completing quotes in person helps us accurately quote and it avoids any last minute extra charges. Click the link if you would like to set up an permanent led lighting quote in Ottawa. 
It's important to select an permanent holiday lighting company that is fully insured to protect you and your home are safe in the event of the emergency. 
Peak Property has a 2,000,000 general liabilty insurance policy and is fully insured with WSIB. 
Trimlight comes with a lifetime product warranty. If a problem comes up with your permanent led lighting system, please reach out to our team in Ottawa.  We will make sure to fix the problem and have your lights back on as soon as possible. 
Peak Property will value your time all the way through the purchase. We know home service businesses have the reputation of not responding the quote requests and never showing up on time. We make it a focus to be communicative and be there when we say we will!

When you call us looking for a permanent led lighting in Ottawa quote, you can expect our team to answer the phone and communicate with you throughout the wait until our team member arrives at your home for the quote. 
Many lighting contractors in Ottawa have long wait periods before being able to install the permanent led lighting on your home.
Peak Property is happy to be accepting new bookings now and have a short turn around for installation dates. We can have your home light up with your favourite colours in a matter of weeks.  
permanent holiday lighting reviews
hear it from our permanent led lighting clients all throughout Ottawa.
what is permanent led lighting?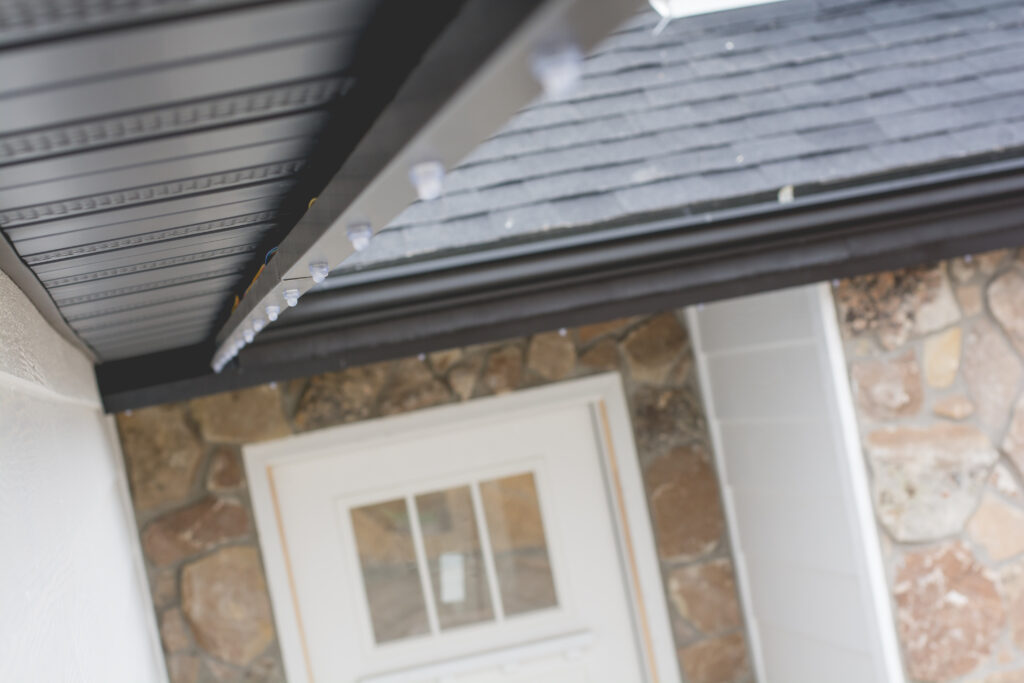 The popularity of Permanent LED lighting systems in Ottawa has taken off in recent years. Home owners throughout the the city of Ottawa are loving the benefits of a permanent programmable holiday and year round lighting systems.
The lighting system is permanently fastened to your home and is usually underneath the soffit. The systems provide great light at night and are hardly noticeable during the day. Clients are able to program their permanent lights through an application on their phone or tablet. The app allows you to customize colours and patterns of the lights for any holiday or event. We provide 180 pre-set light programs for ease of use. 
The permanent LED lights are durable, energy efficient and weather proof. The lights use diodes that are rated for 50,000 hours and are protected in a quality aluminum channel that will be designed to match the colour of your fascia and soffit. The lights are completely water proof, the channels protect the wires from being damaged by UV rays and the channels are securely attached to withstand high winds. 
Installing a Permanent LED lighting system is a great way to get back to enjoying your home and space. 
how do you program the lights?
Our clients all throughout Ottawa have access to the Trimlight app that provides them with user friendly functionality,  giving clients the option select patterns for holidays as well as the ability to create their own colour patterns and animations. 
Clients can simply choose and adjust up to 16 million colour options. The brightness and speed settings of the lights are customizable by using sliders in the app. 

The app has a fully programmable timer and calendar function for daily, monthly or yearly events. Our clients in Ottawa have the ability to set the LED lights up to their team colours before the big game.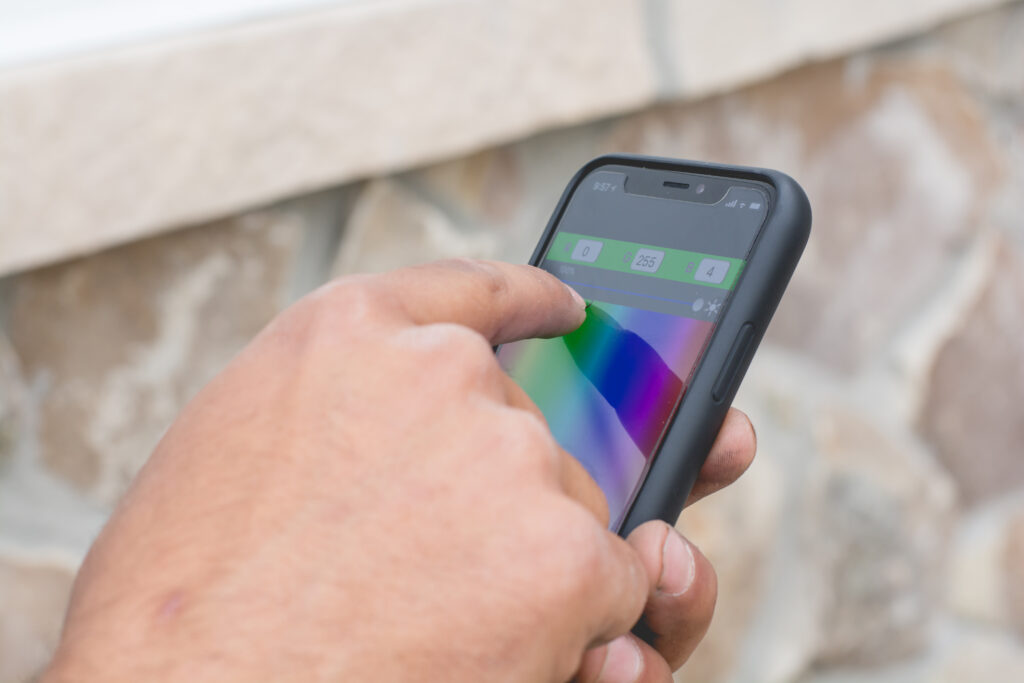 5 dangers of installing your own holiday lights
Hanging temporary holiday lights every year can be dangerous due to ladder use. Let our team of Ottawa light installers professionally handle your install and you can enjoy your new programmable LED lighting system with no risk.
Residential holiday lighting is usually poor quality. The lighting typically looks bad during the day with exposed wires and the lights are rarely evenly spaced.
Residential grade temporary holiday lighting will wear out quickly due to Ottawa's harsh winters from exposure to snow, ice and sun damage. 
Residential holiday lights aren't programmable. Therefore you won't be able to customize colours, patterns, or animations for your holiday lighting.
Residential incandescent light bulbs waste energy. Our LED technology is energy efficient. Each dioide uses .6 watts of power. Which means our lighting system would use less Hydro Ottawa energy than 1 to 2 light bulbs. 
what to expect when hiring peak property for permanent led lighting services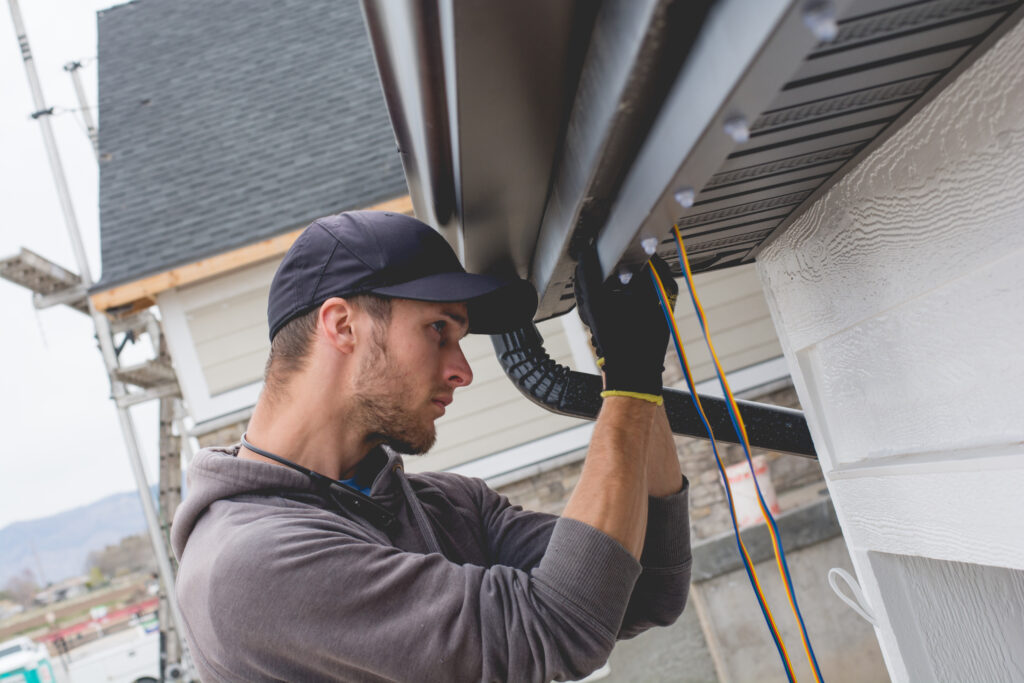 The first step for getting permanent programmable holiday lighting on your Ottawa home is to give us a call. We will ask for some information on what your looking for, contact details and where you're located in Ottawa. 

We will answer any questions you might have about permanent led lighting and if you would like to move forward, we will then set up an in person quote where one of our team members will come take a look at your home.
Once you have booked an onsite permanent led lighting quote, our team will send you some additional information on Trimlight and reminders for the quote visit. 

On the day of the quote our team member will arrive at your Ottawa home and will start by answering any questions you might have about the permanent lights. 

Our team member will then take a look at the outside of your home and measure the areas that you're looking to have the permanent holiday lights installed. We will also take some photos of the home that we can use for a mock up of the lighting system on your Ottawa home. 

Once the team member has finished measuring and taking photos, we will then ask you about some product preferences and provide you with a date for when the quote will be ready.


Once we have sent you the quote for your review, we will follow up with you to see if you have any questions about the quote or the permanent led lighting system. 

During this stage we can also show you some other projects we have worked on in Ottawa to show you what your home could look like all light up. 
Once you let know us know that you would like to go ahead with your permanent led lighting install our administration team will reach out to book an installation date. We will work with you to find a time that works with your schedule.

Once your installation date is booked we will send you some more information on the Trimlight product and what your install process will be like. 

Please feel free to reach out to us at anytime before the install date. Our team does work all over Ottawa, so we are also happy to stop by your home to answer some questions. 
 
On the day of your installation our technicians will arrive and get started on your permanent led light install!

The technicians will start by doing a property inspection to protect your Ottawa home.

Once the team has everything safely set up they will begin installing your new permanent led lights. Please feel free to ask the technicians any questions you might have about the light install.

Once the programmable lighting system has been installed to your home our team will go over how to download the Trimlight app on your phone and hook up the permanent led lights to your wifi. 
Shortly after your install date we will come back to inspect the job and make sure that everything is working smoothly with the permanent led lights. 

At this point you will have had some time to try the app out on your phone and you may have some questions on customizing the colour and patterns of the lights. 

Our goal with the job inspection and follow up process is to make sure you're loving your new permanent led lighting system and making your home stand out in Ottawa! 
Just because the install has been complete doesn't mean we will disappear. We are happy to answer any questions you might have about the system and if something isn't working, please let us know and we will be right out.

We have built our business up in Ottawa by providing a great client experience and we want to make sure you're making the most out of your new permanent led lighting system!

Check here to read some our client service testimonials.
lighting testimonials from ottawa homeowners
From the initial estimate to the day of service everything was timely and professional. Ryan & his crew arrived on schedule. Work was done professionally, any of our questions and concerns. We can only say that our 38 year old siding & eaves are completely rejuvenated. Highly recommend their services*****
Peter, Ottawa
Very pleased to do this review. I was a business owner for over 40 years in the home construction/ renovation business. Over the past 10 years or so I have watched the steady decline of reliable, quality work and customer service. Ryan and Peak have helped to restore that sense of pride when something is done well!!! They provided timely accurate responses and kept their word. The work was done on time, on budget and exceptionally well. Attention to detail even to items not on the scope of work. I highly recommend Peak to anyone in need of this service!!

Jim, Ottawa
I liked the communication and the clarity. Ryan came and gave us quotes for various options. They exceeded my expectations and I will be happy to rehire and recommend. 
A Abdul, Ottawa
commonly asked questions for permanent led lighting in Ottawa