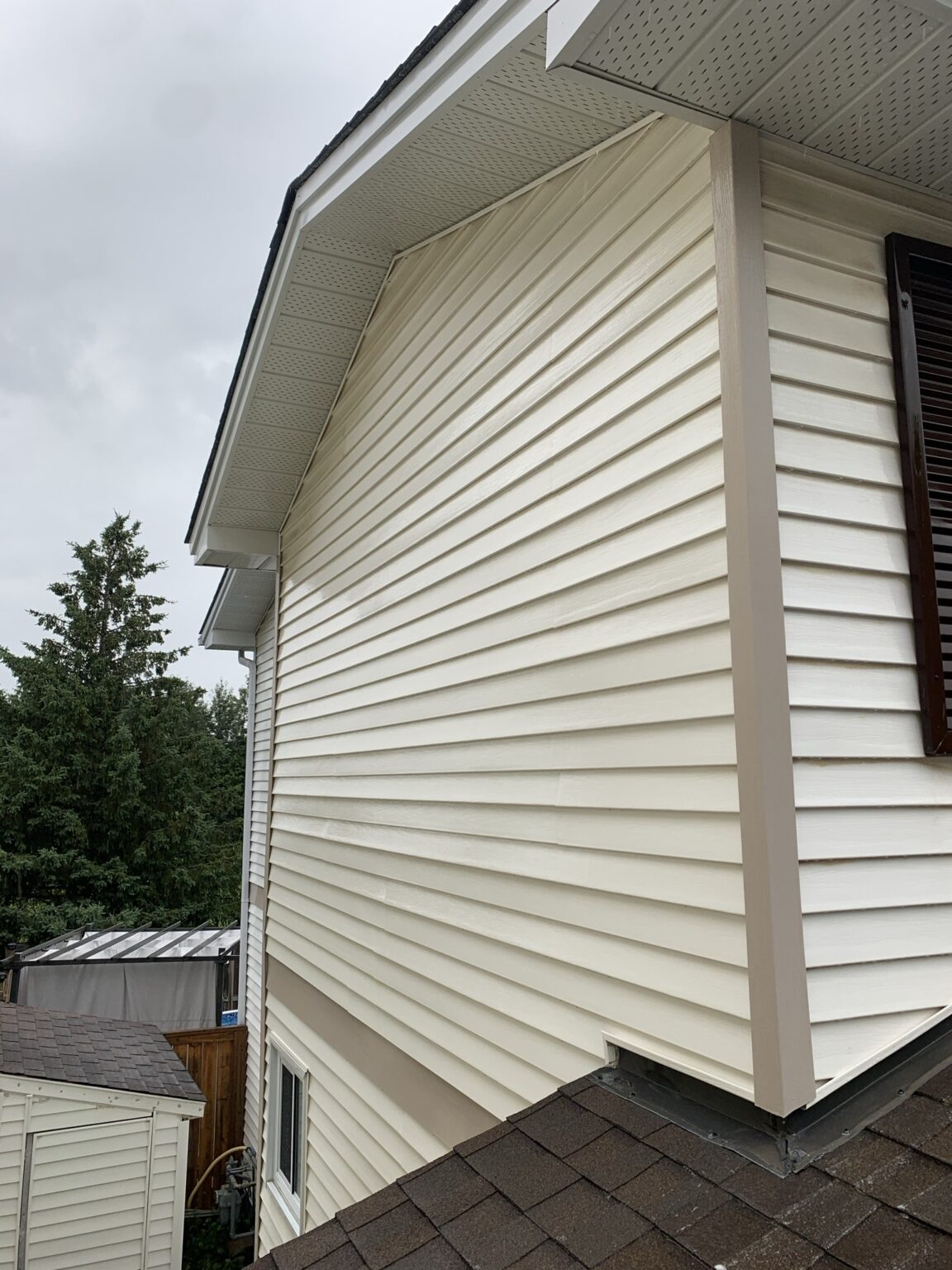 ottawa vinyl siding cleaning
are you considering cleaning your vinyl siding?
We offer our vinyl siding cleaning throughout the entire Ottawa area. Our experienced team will assess your vinyl siding to see what type of cleaning method would work best for your home.  No matter what type of dirt, grime, growth or other debris you have on your vinyl siding, we have the knowledge and proper equipment to professionally clean your vinyl siding for your Ottawa home. 
We understand that taking care of your home's exterior can be a daunting task, but our vinyl siding cleaning service ensures that you don't have to worry about a thing.  Our experience with cleaning different types of vinyl siding allows us to confidently protect your home and property. Our team is available to work around your schedule, ensuring minimal disruption to your day to day routine.  Let our team of Ottawa vinyl siding cleaners help the exterior of your home sparkle again!
Click one of the buttons below to call or request a vinyl siding cleaning quote for your Ottawa home.
why choose peak property for vinyl siding cleaning?
We proudly serve the Ottawa area and provide a professional experience throughout the vinyl siding cleaning process. Our team is fully trained on working with different types of vinyl siding and will use the proper method for the different types stains that are common on vinyl siding.

Members of our cleaning team have attended industry leading pressure washing events and training sessions. We continually receive training of new vinyl siding cleaning methods and new cleaning products from the pressure washing industry.  

We are experts when it comes to property protection during siding cleaning. All of our vinyl siding cleaning technicians have completed a Property Protection Course. When they arrive at your home they will assess the property and see what areas need to be protected before they start the vinyl siding cleaning. Property protection includes moving objects away from the home, window and door protection, taping of electrical outlets and light fixtures to protect them from water damage. Once the vinyl siding is complete, we remove the property protection have everything back in the right place so you can enjoy your outdoor space again!
If you choose Peak Property to clean your vinyl siding, we won't have any hidden fees for you. We provide all of our quotes upfront and will give you different package options for your vinyl siding cleaning. Click on the button below to get started on your vinyl siding cleaning quote for your Ottawa home.
When you're selecting a vinyl siding cleaning company, it is important to select that is fully insured protect you and your home are safe in the event of the emergency. 
Peak Property has a 2,000,000 general liability insurance policy and is fully insured with WSIB. 
When you book with our team in Ottawa for a vinyl siding cleaning service an exterior window cleaning is included in the package. With the exterior siding of your home being cleaned we find a cleaning of the windows at the end of the service will really make your home shine. 
Peak Property will value your time all the way through the service. We know home service businesses have the reputation of not responding phone calls, emails, requests and never showing up on time. We make it a focus to be communicative and be there when we say we will!
When you call us looking for a vinyl siding cleaning in Ottawa quote, you can expect our team to answer the phone and communicate with you throughout the wait until our team member arrives at your home for the quote. 
Many pressure washing companies in Ottawa have long wait periods before being able to clean your vinyl siding. We will be responsive so we can quickly get you a quote and have multiple trucks to be able to clean your vinyl siding. 
Peak Property is happy to be accepting new bookings now and have a short turn around for vinyl siding cleaning dates. We can have the exterior of your home sparkling in a matter of weeks. 
vinyl siding cleaning reviews
hear it from our vinyl siding cleaning clients all throughout Ottawa.
how do we clean vinyl siding?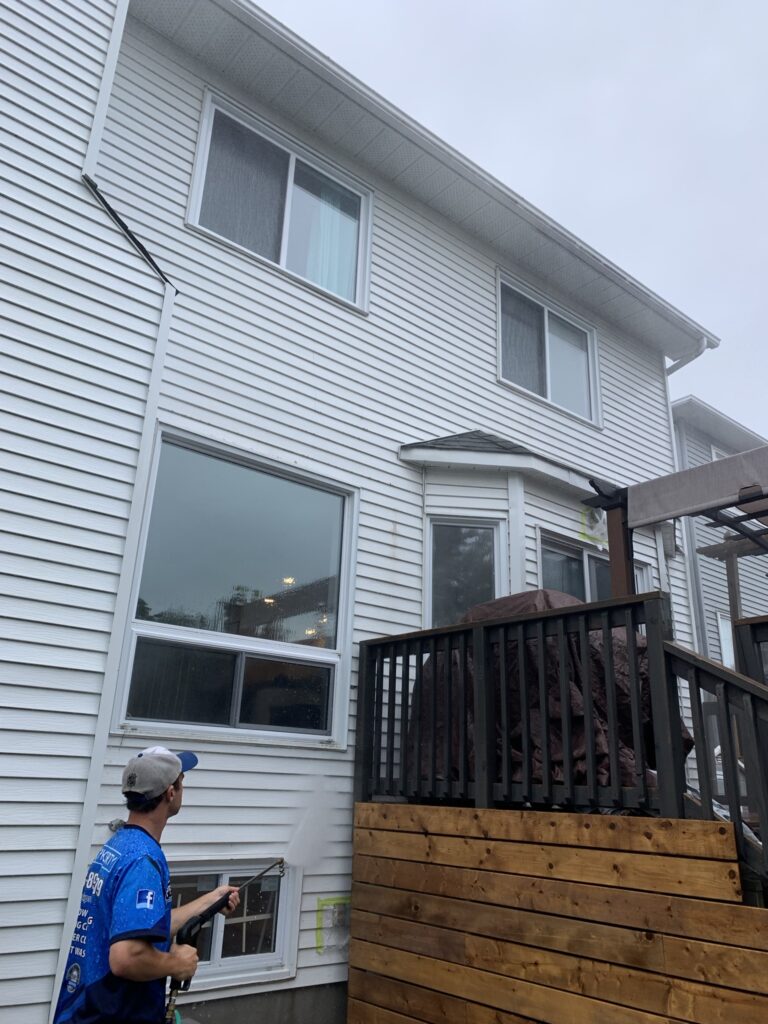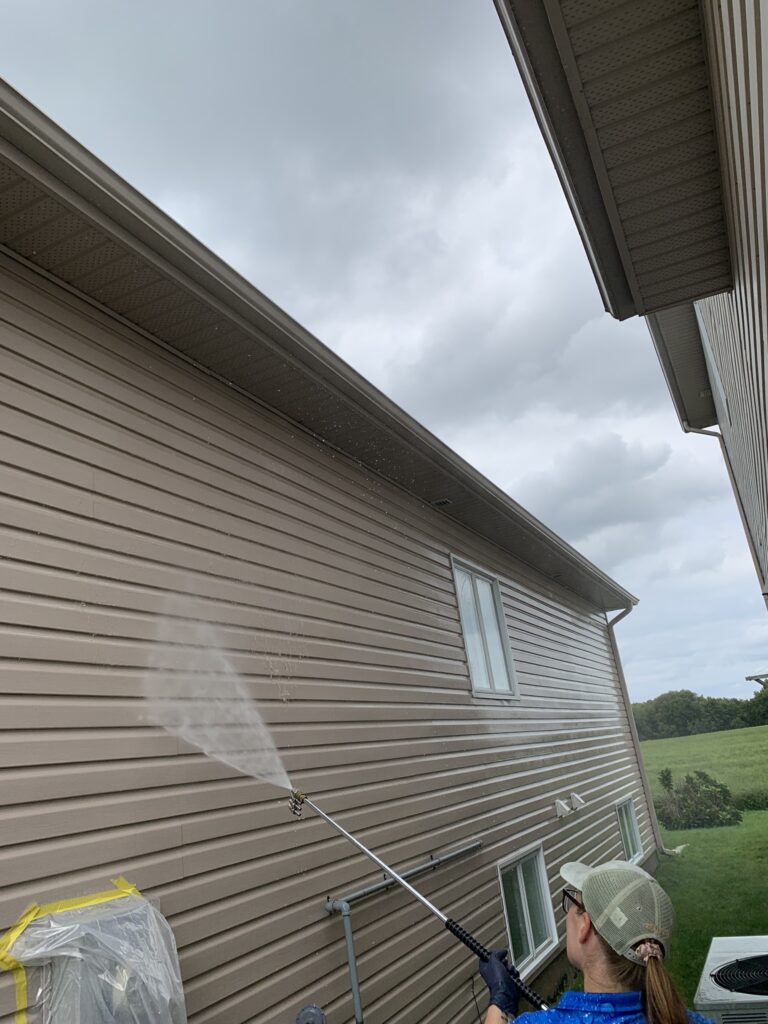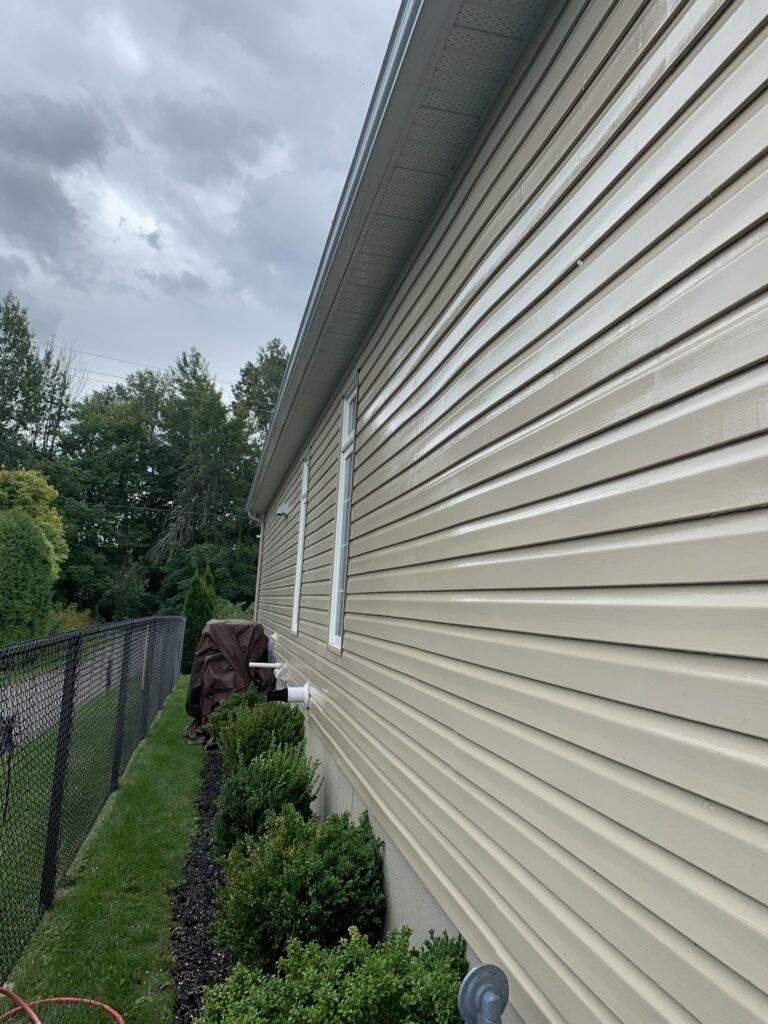 Arrive at Your Home in Ottawa.
We will arrive to your home and our vinyl siding cleaning technicians will greet you in a friendly and professional manner. They will go over the siding cleaning job details with you and address any concerns you may have.
Assess and Protect the Property.
We understand that your property is important to you, which is why we take great care in protecting it during the cleaning process. Prior to the vinyl siding cleaning we will tape off any electrical outlets or light fixtures, move outdoor furniture away from your Ottawa home and assess any areas that may need special attention. 
Our team of Ottawa vinyl siding cleaners are experienced in working with the different types of vinyl siding we find near the Ottawa area. The cleaning technicians will use a low pressure setting on the pressure washer to rinse the vinyl siding and surrounding area down before applying the solution. Once the team has applied the soap solution to the vinyl siding they will let it sit on the surface and let it remove the stains on the siding. Once the stains have been removed the team will finish with another low pressure rinse and clean off the soap and loose debris off the vinyl siding.
Once the vinyl siding cleaning has been completed our team of Ottawa vinyl siding cleaners can start removing the property protection and move your outdoor furniture back into place.
Our team will check in with you once the siding cleaning has been completed. We will show you the results of the vinyl siding cleaning and answer any questions you might have. 
how do some of our competitors clean vinyl siding?
There are quite a few cleaning companies in Ottawa that claim to provide vinyl siding cleaning however they try to clean the vinyl siding only using a pressure washer with a high pressure tip to clean the surface.
The photo is an example of what type of damage can occur when cleaning vinyl siding with a high pressure tip. You can see where the vinyl siding that it was improperly cleaned which led to damage. You can clearly see where they were able to reach with a pressure washer near the bottom and used a ladder to go up the middle on the second story. 
To avoid this damage and inconsistent look we utilize a method called soft washing which provides a safe and consistent clean to the entire vinyl siding surface.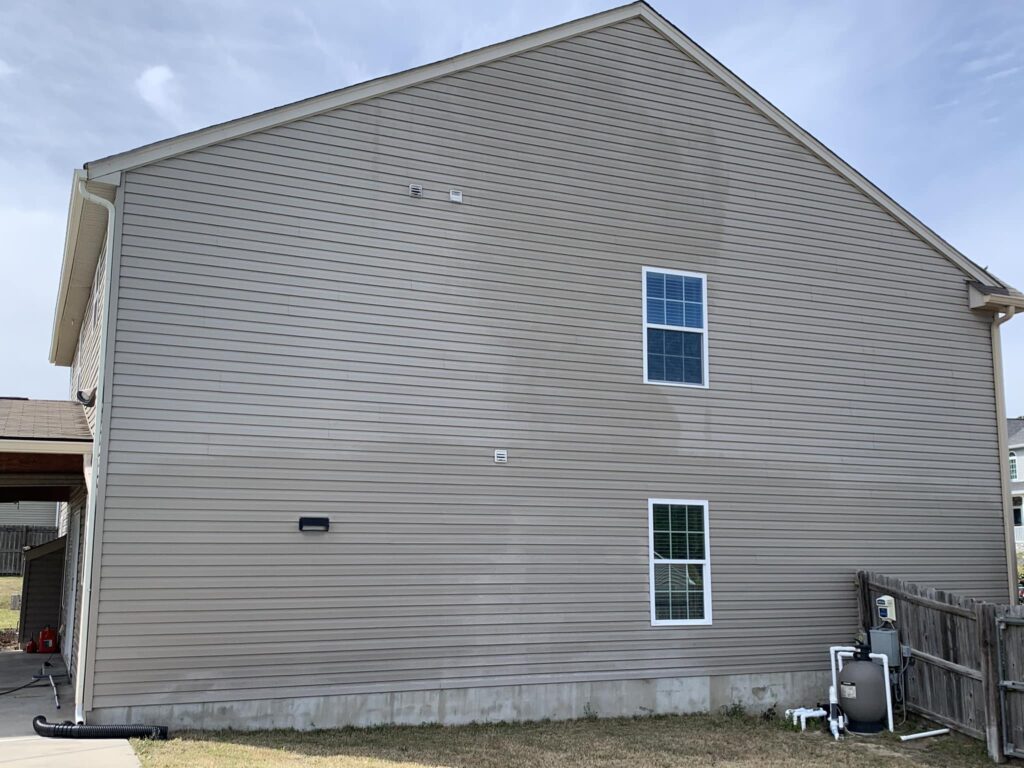 5 dangers when cleaning your own vinyl siding
Water damage can occur when cleaning your vinyl siding if you don't take the correct property protection measures. Let our team of Ottawa vinyl siding cleaning experts protect your home and property prior to cleaning your siding.
Pressure washers can be dangerous if not used properly. The high pressure can cause injuries such as cuts, bruises and eye damage. Peak Property has a health and safety program in place to make sure our team of vinyl siding cleaners follows safety guidelines and use protective gear.
High pressure cleaning from a pressure washer can cause damage to vinyl siding by causing it to warp, crack, or peel. Let our team of Ottawa siding cleaning experts take care of your vinyl siding cleaning.
Homeowners can have a difficult time cleaning any vinyl siding higher than 6ft due to them not being able to reach the pressure washer any higher. That is why our team uses a cleaning solution that can reach vinyl siding homes in Ottawa that are 3 stories high!
When trying to clean vinyl siding some homeowners in Ottawa try to use their pressure washers on ladders to reach tough to get to areas. This can be quite dangerous if the right precautions are not taken.
what to expect when hiring peak property for vinyl siding cleaning services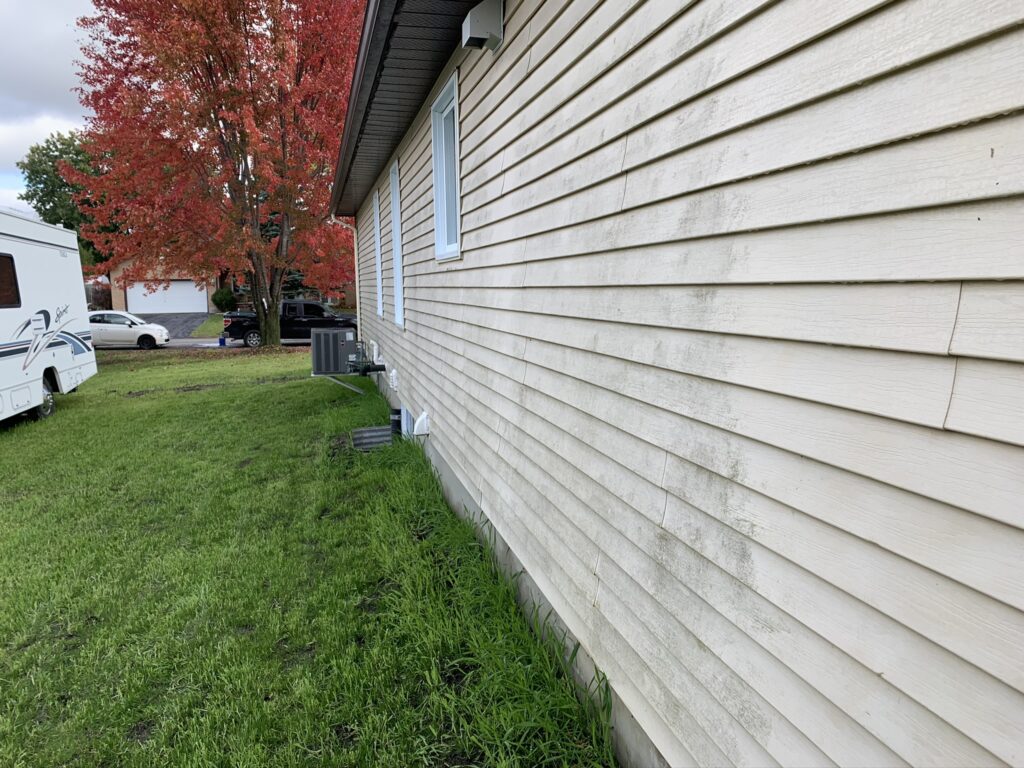 We prioritize our clients in everything we do. Each decision we make is intended to simplify the process of looking after your property in Ottawa.
We always treat each other, our clients, and the outside world with respect, kindness, and compassion. These values not only lead to better outcomes but also create a positive work environment.
We believe in investing in our team to ensure that they have the skills and knowledge necessary to become industry-leading exterior cleaning technicians. We provide ongoing training and support to help them develop their skills and stay up-to-date with the latest cleaning techniques and equipment. 

We also prioritize their personal well-being, providing a positive work environment, and treating each other with respect, kindness and compassion. 
Instead of trying to offer every service to everybody, we prefer to focus on providing a few services exceptionally well. Quality is always our top priority.
vinyl siding cleaning reviews from ottawa homeowners
From the initial estimate to the day of service everything was timely and professional. Ryan & his crew arrived on schedule. Work was done professionally, any of our questions and concerns. We can only say that our 38 year old siding & eaves are completely rejuvenated. Highly recommend their services*****
Peter, Ottawa
Ryan and Eric did an amazing job!! My windows, siding and gutters look like new! If I could give more than 5 stars, I would! My gutters were covered in black spots and are now perfectly white. The siding was dirty with areas of algae and it looks brand new. They cleaned the windows inside and out, the track and the screens. No more grandkid fingerprints, no more dog paw prints, no more spider webs. They were polite and professional and they were kind to my large, pain in the neck, puppy. First time having this done but definitely won't be the last. Thank you Peak Property for the excellent service! 
Peak Property soft washed our north facing exterior wall siding. It's a new house to us and we are pretty sure it hadn't been washed in over a decade. It had thick caked on dirt, mould, and barnacle looking stuff on it. Ryan gave me a quote and showed up as promised. He and his crew were professional and efficient. The siding looks brand new again! They protected the garden and air conditioner below and cleaned everything up after they left. I would HIGHLY recommend Peak Property. Affordable prices, professional, and leaves your house looking new again! Hard to find that nowadays!
commonly asked questions for vinyl siding cleaning in Ottawa